After 42 years of lobbying for cannabis policy reform, the advocacy group is refocusing its mandate to promote equitable, functional weed laws.
Mugglehead
Michelle Gamage | March 31, 2020
After fighting for complete cannabis legalization for over four decades, NORML Canada's new executive director says the advocacy group still has a long way to go before it's completed its mandate.
Since 1978, the non-profit has been advocating for the elimination of all civil and criminal penalties for personal cannabis use. After Canada legalized recreational weed Oct. 17, 2018, NORML Canada shifted from pushing for legalization to pushing for policy that grants fair access for medical patients and recreational users alike, and repairing the harms caused by cannabis prohibition.
Last week, NORML Canada announced it appointed Caryma Sa'd, a Toronto-based cannabis lawyer and outspoken critic of the regulated industry, as its new executive director.
To hear about how legalization fell short and if the COVID-19 pandemic could benefit the cannabis industry, Mugglehead spoke with Sa'd over the phone.
The following interview has been edited for length and clarity.
How did you end up as a cannabis lawyer?
My professional background is law and my interest in cannabis advocacy actually developed in law school, in a mandatory first-year class. I found the 2003 Malmo-Levine case really interesting because of what's called the harm principle.
In the case, the judge said there there ought to be a connection between punishing people with the state's power and resources, and actual harm caused to society. It shouldn't be simply a moral condemnation, like the lack of evidence-based policy which criminalized cannabis in the first place.
I always thought that was a really juicy topic. Fast-forward to graduating and setting out in my own practice in 2016, when discussions of legalization were becoming more concrete and tangible. It just seemed viable to have a practice that involves cannabis.
And what made you want to be NORML's executive director?
I see this as an extension of some of the advocacy work I've already been doing, and an opportunity to have not just a bigger platform, but to be in a position where I can connect with different people in different areas of politics, industry, policy, etc. In my law practice I was fortunate to have a range of clients, but I also had a limited focus from a housing perspective and a criminal perspective.
This is really an entry point to becoming even more involved with with the cannabis community in its broadest sense. And, of course, being at the helm of a national organization means we can grab a seat at the table, and hopefully be in a position to have our thoughts heard.
Why do you think you were chosen to lead NORML?
Obviously I can't speak for the board members, but I like to think I was chosen because of the work that I've been putting in. My comics a pretty good indicator of how I approach things. A little bit of fun, but it's also with some insight, and sometimes with a bit of sharpness. And I can bring that to NORML campaigns and deploy it to a larger platform.
I'm also relatively new here in the sense I've only been involved in the cannabis industry for around five years. I approach things with an open mind and curiosity. And I think that, at a time where there is a lot of division and strife, I could get people to rally behind our common interests. Because those exist, it's just a matter of finding them and emphasizing them. Ultimately, a rising tide lifts all boats.
You publish comics on social media that criticize the regulated cannabis industry. Can you tell me more about that?
The comics are a fusion of my interest in social commentary and art. I like presenting things in a way that people can glean the necessary information without it feeling like an arduous task. There's always a lot of layers within the comics.
The closer you look, the more you get out of it — but I do try my best to simplify complex ideas. It's an outlet for me. I don't execute the artwork but I get to conceptualize it and do the writing and then outsource the art.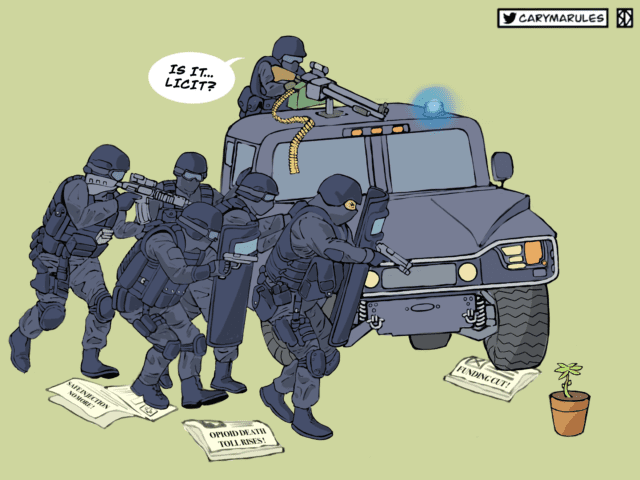 You get a lot of Twitter engagement over the comics. Have you been able to reach audiences that don't usually care about or follow cannabis?
I'm active on all social media sites, but Twitter is my favourite.
I have a lot of lawyers on my feed who aren't usually in tune with the cannabis industry. And I've been pleased with some of the conversations that have ensued about gaps in government policy. Hopefully the comics help plant a seed for future decision making the next time a reader is being politically active.
I've gotten a lot of positive feedback from people too.
So how did you first hear about NORML Canada, and why did you fall in love with them back in the day?
They've always had a very sensible message, which is: There shouldn't be civil or criminal charges for non-violent behaviour that isn't harmful.
When Prime Minister Justin Trudeau was first elected and cannabis legalization was put on the agenda, NORML Canada was at the forefront of pointing out where is the government was getting it wrong and where its blind spots were.
They're also very sensible in their approach, and that's appealing to me. There's all sorts of ways advocacy groups can push their ideas, and a lot of groups push for an extreme version and then accept something less than that. That certainly has its benefits, but I think it also comes with the serious limitation of alienating people. But NORML, at its core, isn't saying anything that doesn't make sense.
There's a lot of people who say, "Cannabis is legal now, what else is there to do?" But there's so much more to tackle.
Where I come in is to re-hone and re-focus on the core issues we're pushing for. And for me I think that's going to mean centering on patients and people who were disproportionately and unduly harmed by the war on drugs, or cannabis prohibition.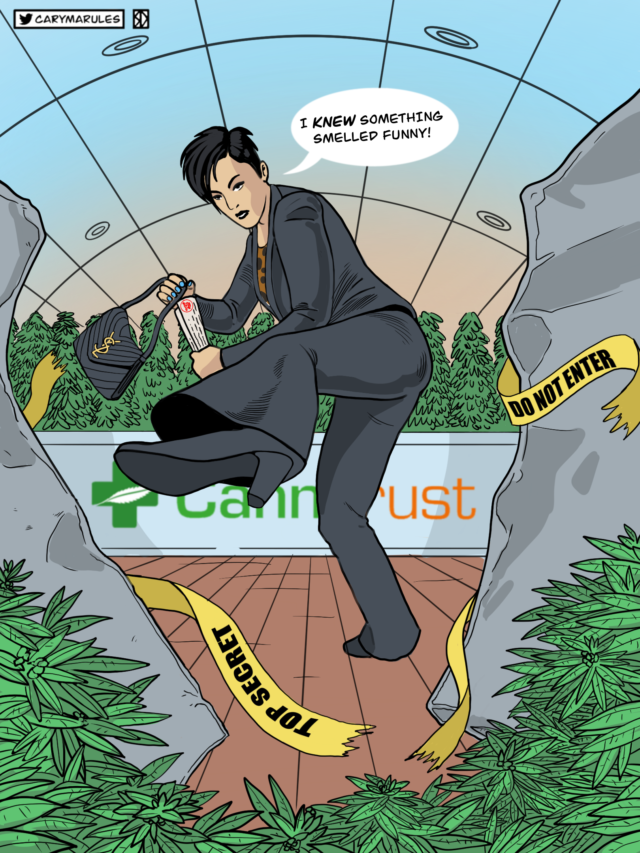 Can you explain how NORML had to rebrand when Canada legalized cannabis?
I'll start with a caveat by saying I'm new to this position, so I don't want to overstate what NORML was up to before I was here. But I think a large part of rebranding was acknowledging that we were successful in a major part of what we were advocating for.
So embracing the accomplishments, but not losing the edge and continuing to hold authorities to account. And continuing to liaise with industry, whether in the legal market or in the underground/transitioning/unregulated/self-regulated/however-you-want-to-describe-it market.
So what is NORML fighting for now?
Let me start by saying I think there needs to be more of an appreciation that legalization wasn't just granted because the government was magnanimous or benign. It happened because because of activism and because people — particularly medical patients — put themselves on the line and took on court cases, arrests, imprisonment, legal fees, all of that, for two decades. And I think that is lost in today's conversations.
The boom of recreational cannabis is great, but the groups that carried us here on their backs — often the most marginalized or vulnerable — are being left behind. And I think that that's who we need to be fighting for.
For example, medical patients have been calling for a safe delivery system for years but they were ignored until the coronavirus hit. Now there are real discussions about how to keep immunocompromised or at-risk people safe.
NORML also has a responsibility to advocate for people who were affected by the war on drugs, whether they served time or have a charge on their record. If they want to participate in the cannabis market, we should be making sure they have first dibs. Or they should be offered real and genuine cannabis amnesty. But the government hasn't even acknowledged that there was anything wrong with cannabis prohibition.
The Cannabis Act is framed on protecting children and stomping out the black market, but I don't think that's the right message or approach. It ignores the push for civil liberties that was part of the legalization discourse in 2014 and 2015.
It's been interesting to follow how new government policies meant to slow the spread of COVID-19 are impacting the cannabis industry. Like in B.C., pharmacists are now allowed to refill expired opioid prescriptions but can't dispense medical weed.
There's such an inconsistency there right? Let's take the government's stance at face value and say that their true genuine concern is public health. What about all of the research out there that says cannabis is a harm reduction tool compared to opioids or other pain medications? What about the thousands of people who are dying because of overdoses while the government defunds safe injection sites and ramps up enforcement for cannabis, which has killed all of zero people?
Read more: BC pharmacists can refill opioid prescriptions, can't dispense medical weed
We need to realign our priorities and the government should have an openness to looking at the bigger picture and relaxing, or eliminating, rules for LPs.
Quebec, Ontario, Saskatchewan and B.C. have labeled weed as an essential service. Are they going to walk that back when the pandemic ends?
They can try to walk it back, but it's been said here and in other jurisdictions around the world. The government will have to confront the fact that they've made that recognition and I'm very glad that there's that acknowledgement. Hopefully this means we can move forward with a more common understanding that isn't petty.
There are policies in place right now that are actually harmful, and those need to be addressed. I am really glad NORML exists and we can provide some cohesive campaigning, focus on the worst policies and just try to improve things. At the end of the day, that's what I hope to do with my tenure. Just leave the landscape a little bit better than I found it.
Read more: Canadian retailers applaud provinces for calling cannabis 'essential'
Will calling weed an essential service help battle stigma around the plant?
I think it will. Stigma gets chipped away in all sorts of funny little ways. I myself am a lot more open about my consumption of cannabis. It's not something I would have been comfortable saying a few years ago, but I've noticed a recent shift.
Coming from the government, the acknowledgement that this is an essential service, that's going to make people stop and reconsider their stance — or maybe even their own relationship with cannabis.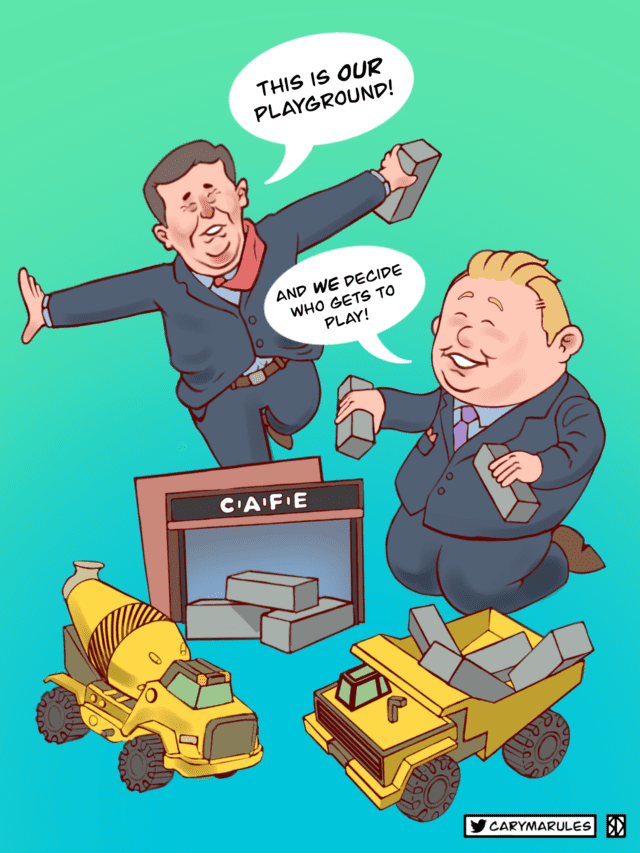 If weed is now 'essential,' has the government changed how it views the illicit market? Could a pandemic be used to help unite the regulated and unregulated markets?
I don't really know — this is all so unprecedented. There are still a lot of barriers to bring people into the regulated market.
Take the Business Development Bank of Canada who is outright refusing to do business with anyone involved with cannabis. If you're a small business and the banks won't touch you, where do you get the money to start? Are you supposed to already have access to all that capital and your own assets? That's not the reality for a lot of people who were involved with cannabis pre-legalization.
If we really wanted to tackle the unregulated market there needs to be an opening up and loosening of regulations. We can't operate on a premise of zero harm — nothing works like that, otherwise we'd have to close all of the sugar factories.
Bottom line is to bring in all of the players. We need rules that are fair and accessible, not excluding at the outset. Even those who are playing by the rules are finding that there are all sorts of arbitrary and unfair roadblocks.
Why is the BDC is refusing to work with the cannabis industry?
The official reasoning is cannabis is high risk but I don't really see why that would be the case. I wonder if it's a decision made at the top by someone who has preconceived notions about cannabis. I don't know if there is any coherent reasoning. If there is it would be great to know and then maybe the industry could address those concerns. Right now it's just a blanket refusal for anyone who even remotely touches the plant, which makes it hard to do business.
Read more: Justin Trudeau's business bailouts gives cannabis the cold shoulderhttps://platform.twitter.com/embed/Tweet.html?creatorScreenName=muggleheadmedia&dnt=true&embedId=twitter-widget-0&features=eyJ0ZndfZXhwZXJpbWVudHNfY29va2llX2V4cGlyYXRpb24iOnsiYnVja2V0IjoxMjA5NjAwLCJ2ZXJzaW9uIjpudWxsfSwidGZ3X2hvcml6b25fdHdlZXRfZW1iZWRfOTU1NSI6eyJidWNrZXQiOiJodGUiLCJ2ZXJzaW9uIjpudWxsfSwidGZ3X3NrZWxldG9uX2xvYWRpbmdfMTMzOTgiOnsiYnVja2V0IjoiY3RhIiwidmVyc2lvbiI6bnVsbH0sInRmd19zcGFjZV9jYXJkIjp7ImJ1Y2tldCI6Im9mZiIsInZlcnNpb24iOm51bGx9fQ%3D%3D&frame=false&hideCard=false&hideThread=false&id=1242851151747432448&lang=en&origin=https%3A%2F%2Fmugglehead.com%2Fnorml-canadas-new-executive-director-caryma-sad-explains-how-legalization-went-wrong%2F&sessionId=1bb4300580589bc72d6e1c483a48d02213c4f84b&siteScreenName=muggleheadmedia&theme=light&widgetsVersion=2582c61%3A1645036219416&width=550px
Any way weed can help us through COVID-19 mandated social distancing?
Cannabis is great because you can smoke it alone or over Skype, Zoom or Face Time with friends and it's not weird. You can use it together remotely. And everyone reacts to cannabis differently but it helps a lot of people chill out.
Read more: Why weed and social distancing go hand-in-hand
I would much rather see people turn to cannabis than alcohol. The quarantine can exacerbate domestic violence. That's the last thing we need going on right now. In criminal court, when someone is being charged because they punched someone in the face or got into a bar fight it's usually because they were drinking alcohol, rather than smoking cannabis.
People have a lot of time on their hands right now. Is there anything they can do to learn more about or support NORML?
I anticipate the website is going to be revamped in the coming weeks. And so I'm hoping to get some good resources on there for people to have a primer on the history, the current state of affairs and contemporary issues. In the meantime, NORML is active on social media. We're always happy to respond to questions and if there is a resource we can point you towards, we'll do that.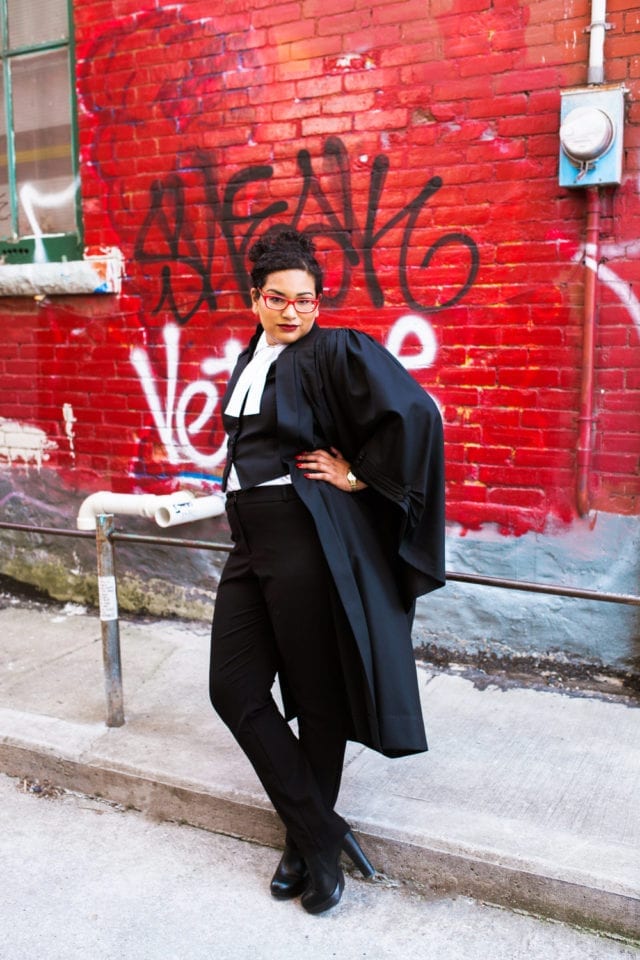 What contemporary issues grind your gears the most?
It really, really, really upsets me that there are ex-cops and ex-politicians making money hand over fist with the exact same plant they were arresting people for and ruining lives over.
I think if anyone benefited from, or built a career around, the criminalization of cannabis they should absolutely be last in line to participate in the legal industry. That doesn't mean we need to boot people from the industry. A remedy would be really focusing on dismantling barriers and creating opportunities for groups who actually were the ones who suffered harm from cannabis prohibition.
Another axe I have to grind is the 30 gram limit on how much cannabis you can carry. In the era of social distancing, when we're encouraged to minimize our trips outside, it would be nice to be able to purchase for your neighbour or some seniors. A limit just creates additional problems; what's the point? I could go to the liquor store and buy to my heart's content and no one is going to stop me.
I really don't like those types of rules. They're just for the sake of having a rule.
NORML did a lot of restructuring through legalization. Where do you see it in five to 10 years?
One of the priorities for my involvement is to really strengthen ties between NORML and other civil advocacy groups and businesses. I hope in 10 years NORML will be a hub where you can get an overview of what's happening and what's hot in the industry, or see what the major players are up to.
I'd also hope to be dealing with fewer civil and criminal penalties. Legalization hasn't eliminated those, it's often made it worse. That's backwards; we need to go the other way. Hopefully we'll be able to focus more on civil society and industry stuff and are able to once and for all get the laws, statutes, rules and regulations to a fair and workable point.
Final question: How are you staying sane and productive during social distancing?
Oh you know, cannabis [laughs]. But actually I've been keeping a loose routine and also planning for: when the pandemic is over, how to have more of what I love and less of what stresses me out in my life. I'm using working from home as a forced retreat because I haven't had time off for a long time.
I'm seeing this as the universe telling me to slow down and recalibrate, so that's exactly what I'm doing.
Top image: Portrait of Caryma Sa'd by Karimah Gheddai.
michelle@mugglehead.com
@missmishelle