Nearly three years into cannabis edibles becoming legal in the Canadian market, producers and retailers say higher potency edibles continue to be a driver of the illicit market, hamstringing the legal industry as well as Health Canada's own public health concerns.
While legal producers are limited to no more than 10mg per serving, and per package for edible products (there are some workarounds such as ingestible oils), similar products are commonly sold on the black market that can have potentially hundreds of milligrams of THC—or at least advertise that they do—says Niel Marotta, president and CEO of edibles manufacturer Indiva.
In his work as the co-chair of the edibles caucus at the Cannabis Council of Canada (C3), Marotta says he and many others in the industry are actively lobbying Health Canada to make them aware of their concerns.
"Part of our effort right now is to inform all levels of government, in particular Health Canada, of what I would describe as a half-million dollar market failure. When you look at the edibles category in Canada over the last two-plus years as a percentage of the entire market it's only about 5%. When you look at mature markets it's more like 15% when you look at recent data from Colorado."
"Some of that gap may just be time," he continues," but I think you can draw a straight line to the potency issue, where it's obvious people are going back to the illicit market for higher potency edibles."
"It's obvious people are going back to the illicit market for higher potency edibles."

NIEL MAROTTA, PRESIDENT AND CEO OF INDIVA.
Beena Goldenberg, the CEO of OrganiGram, another edibles manufacturer and member of C3, says the issue is also one relating to manufacturing practices and for the extra waste created by only allowing 10mg THC per package. This is especially true for consumers who aren't satisfied with such low THC limits.
"Consumers want a product that has higher THC. With a cap of 10mg per package, we often have two or four gummies in a package which means each gummy might be only 2.5 mg. There are people out there that won't make any difference to … so you're eating a lot of candy to get your THC."
Goldenberg says she believes what is needed is not necessarily higher potency in a single serving, but just increasing the allowed limit per package. Leaving the 10mg limit per serving, but allowing potentially 100mg per package would go a long way to making the products more appealing to consumers, especially those currently going to the illicit market.
"If you could do a 100mg package and you could have ten 10mg pieces in it, isn't that better?"

BEENA GOLDENBERG, CEO OF ORGANIGRAM,
She argues this in itself is a public health and safety issue because every consumer going to the illicit market is taking a risk buying products with no standardized testing.
"Certainly when we look at the mature markets, there are offerings at much higher than 10mg, and so we really want to get to 100mg in a package. We want to be competitive with the illicit market, but with all the benefits of the legal market, meaning it has all the safety and precautionary rules that currently don't exist in the illicit market."
Christina Clarke, the CEO of the Songhees Development Corporation, which operates a provincially-licensed cannabis retail store on Vancouver Island, says she knows that edibles remain one of the main drivers of demand in the illicit market.
Although legal products in nearly every other cannabis product category are competitive with the illicit market in terms of price, quality, and variety, edibles lag behind.
"If people are going to go to the black market because the product they want is not in the regular market, then if it's a product that's safe we should be able to sell that in the legal market and not leave it as a product (only in) the black market."
"The reality is, anybody who's an edibles user knows, those doses are really quite low for somebody, especially if you're a regular user of edibles. Your tolerance is such that some of these (edibles) barely do anything. I'm waiting for the market to catch up with what the customer wants."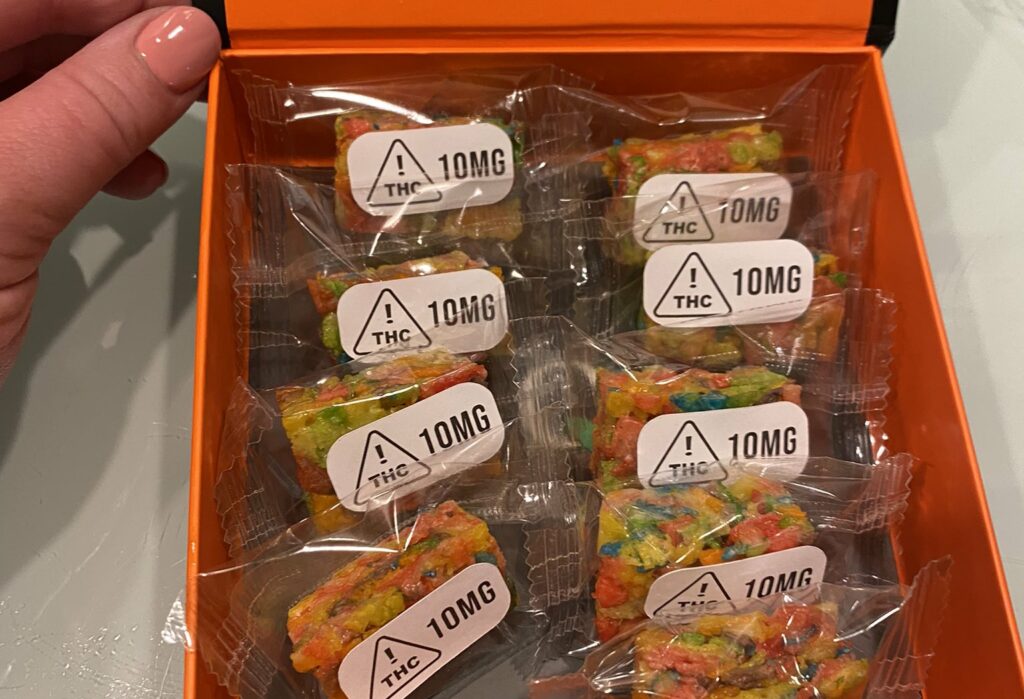 Jennawae McLean, the co-owner of Calyx + Trichomes Cannabis and the Executive Director of Norml Canada, says she agrees with the idea of opening up the limit to at least allow producers to sell more than 10mg per package, even if the potency on individual servings stays the same.
"(Ten)mg is fine for a suggested serving, but edibles should not be 10mg per pack," McLean tells StratCann.
"In other regulated markets, the limit per package is not as restrictive as it is in Canada. A couple of weeks ago I was in Las Vegas and was able to get edibles that had many 10mg portions per bar or box.
"Customers mostly get confused about the price per mg (which seems expensive) and the quantity limit," continues McLean. "Unregulated edibles seem half the price for 10x the potency."
Canada's 10mg potency limit was in part informed by feedback from states like Colorado and Washington that legalized cannabis for non-medical purposes several years prior to Canada. When these states initially legalized they had very few restrictions on edibles potencies and saw a lot of problems with people consuming too much, increasing emergency room visits and other health and safety concerns.
"10mg is fine for a suggested serving, but edibles should not be 10mg per pack,"

JENNAWAE MCLEAN, CO-OWNER OF CALYX + TRICHOMES CANNABIS AND THE EXECUTIVE DIRECTOR OF NORML CANADA
These states have since imposed more strict standards, with some only allowing 10mg or even 5mg of THC per serving, but still allowing much more THC to be in a package. Colorado, for example, has had a 10mg per serving limit in place now for several years but allows up to 100mg per package.
"Now is the time to review this area," adds Goldenberg from Organigram. "Maybe it was fine at first, the idea of starting slow, but we can now see that after three years, we are unintentionally keeping the illicit market active in this area because we are not providing equivalent legal options to consumers.
"If you could do a 100mg package and you could have ten 10mg pieces in it, isn't that better?"